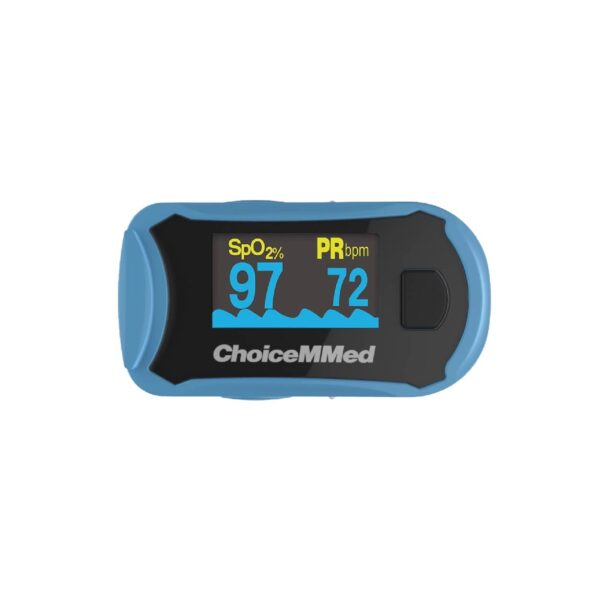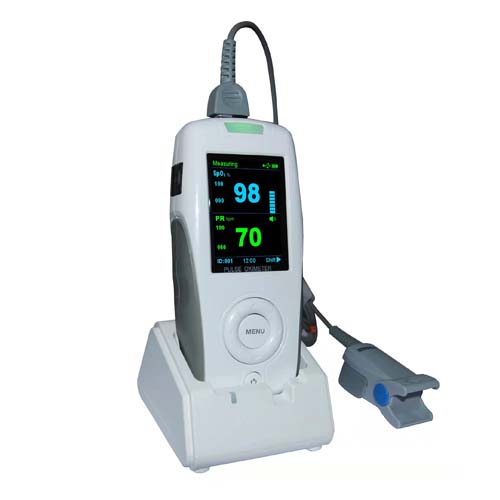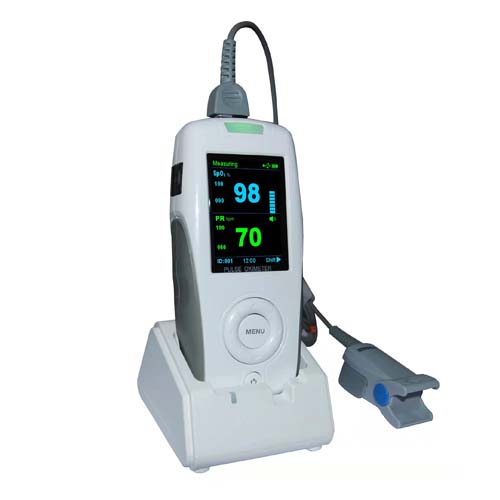 The Sanrai Pulse Oximeter is a noninvasive device that makes it easy to check oxygen saturation. For all COPD patients and any others at risk of low levels of blood oxygen saturation, a pulse oximeter is a necessary medical product. Fingertip pulse oximeters are the most common with common applications in hospitals, clinics, homecare providers, and direct to patient. Handheld pulse oximeters are used in hospital or clinical settings to record patient oxygen saturation levels.
This oximeter comes with 6 display modes and shows SpO2, pulse bar, PR, and waveforms. With 1-10 brightness display settings, a patient's oxygen saturation can be checked without any disturbance to them.
Description
Fingertip Specs:
LED display shows SpO2, PR, Pulse bar, and waveform
6 display modes
Low power consumption, real time battery display
Level 1-10 adjustable brightness
Requires 2 AAA batteries
Handheld Specs:
Display shows pulse bar, waveform, SpO2, perfusion index
Neonatal, pediatric, and adult probes available
Recharging cradle included
127 patient IDs can be recorded
72 hour data storage and review
Bedal DrainPatch Catheter Fixation

The Bedal DrainPatch is a new drainage catheter fixation device that provides significantly more adhesive strength while still being easy to remove. The Bedal Drain Patches are a range of catheter stabilization devices designed to accommodate a wide range of diameters with only one product. The unique system provides a watertight seal and non-invasive catheter fixation. There are unique products for drainage catheters, picc/cvc, pivc, epi/pnb, and a universal fixation device.

Metal Impact Aluminum Cylinders

Metal Impact Aluminum cylinders are high quality, USA manufactured aluminum medical grade cylinders. Used for home oxygen therapy, emergency medical services (EMS), pre-hospital care and hospitals, nursing homes, and other medical institutions. These can be painted any color as per local regulations and come with a pin index or bull nose valve. Manufactured to DOT and TC requirements

Metal Impact can also manufacturer cylinders for other medical gases or industrial uses.

Sunset Oxygen and Sleep Accessories

The Sunset Healthcare range is a complete set of oxygen and sleep accessories for respiratory medical care

Sleep

Masks and replacement parts
Tubing and wraps
Filters
Chinstraps and Headgear

Oxygen

Cannulas and tubing
Connectors and adapters
Bacteria and HEPA filters
Concentrator Cabinet filters

Other

Tracheostomy
Suction
Nebulizer kits and filters
Ventilator filters and adapters
Wheelchair cushions

Medip Vitals Spot Check Telemedicine Monitor

Medip Vitals is a full featured, vitals monitoring system designed to either remotely record patients data or be integrated within a hospital EMR system. Medip Mobile is an easy to transport compact briefcase that acts as the perfect tool for medical personnel in rural environments. We provide geographically isolated healthcare staff with total connectivity by integrating functionalities that ensure the interactive transfer of vital signs data to medical centers via new generation wireless technology. It is fully customizable.

Medip Vitals can be integrated to provide real time data within a hospital setting through its cart configuration.