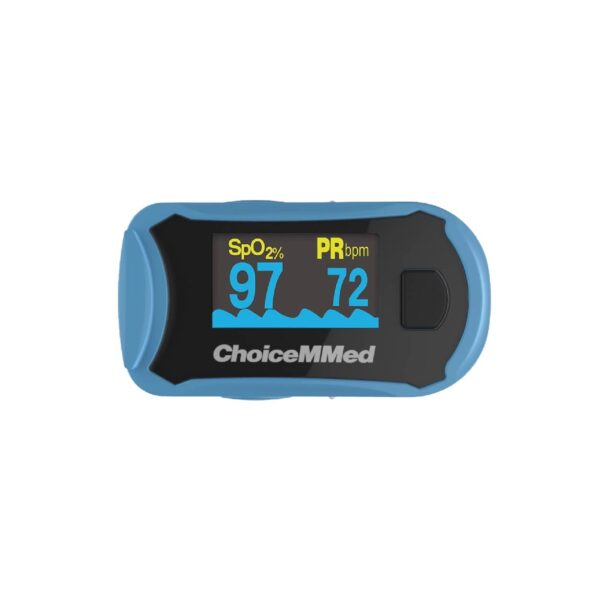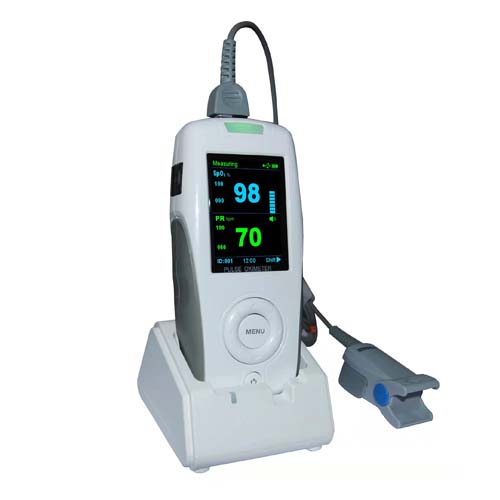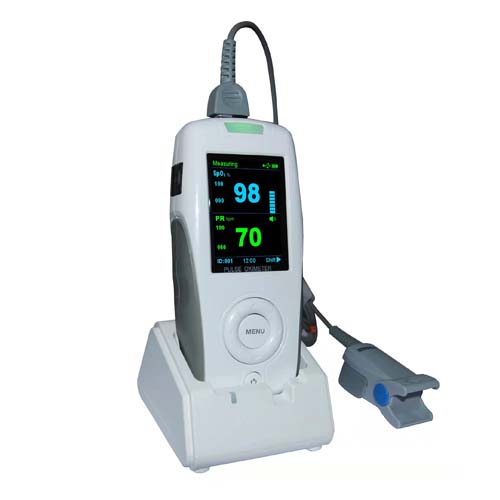 The Sanrai Pulse Oximeter is a noninvasive device that makes it easy to check oxygen saturation. For all COPD patients and any others at risk of low levels of blood oxygen saturation, a pulse oximeter is a necessary medical product. Fingertip pulse oximeters are the most common with common applications in hospitals, clinics, homecare providers, and direct to patient. Handheld pulse oximeters are used in hospital or clinical settings to record patient oxygen saturation levels.
This oximeter comes with 6 display modes and shows SpO2, pulse bar, PR, and waveforms. With 1-10 brightness display settings, a patient's oxygen saturation can be checked without any disturbance to them.
Description
Fingertip Specs:
LED display shows SpO2, PR, Pulse bar, and waveform
6 display modes
Low power consumption, real time battery display
Level 1-10 adjustable brightness
Requires 2 AAA batteries
Handheld Specs:
Display shows pulse bar, waveform, SpO2, perfusion index
Neonatal, pediatric, and adult probes available
Recharging cradle included
127 patient IDs can be recorded
72 hour data storage and review
DeVilbiss VacuAide Suction Device

The DeVilbiss VacuAide Suction Device is one of the most reliable suction devices available today. Suctioning is a component of bronchial hygiene that involves the mechanical aspiration of secretions from the nasopharynx, oropharynx, and trachea. The airway may be in its natural state, artificial (as with a tracheostomy) or surgically altered (as with a laryngectomy). The patient may or may not be receiving mechanical ventilation.

With both autoclavable and disposable suction receptacles, the DeVilbiss VacuAide Suction Device can be used both in the hospital and at home. For patients who cannot cough up their own secretions, a suction device is an essential part of their daily care. The DeVilbiss VacuAide Suction Device can be used on neonates all the way up to adults with suctioning power from 50 mmHg up to 500 mmHg. With battery power, the DeVilbiss VacuAide can be used anywhere.

ResApp – The Respiratory Disease Diagnosis Smartphone App

Developed in Australia, the ResApp is a digital solution to the challenges of diagnosing respiratory diseases. Instantly diagnose and manage respiratory diseases using a smartphone.

Using artificial intelligence, the ResApp listens to a patients cough sounds and enables rapid, low cost, point of care and remote diagnosis of respiratory diseases. Clinically validated to be over 85% accurate, the ResApp has the power to change how respiratory diseases are diagnosed today.

With earlier and more accurate diagnosis, clinicians can begin treatment sooner saving lives of both children and adults. The future of respiratory disease diagnosis is digital!

DeVilbiss 1025 Oxygen Concentrator

The DeVilbiss Compact 1025 is one of the most reliable and robust stationary concentrators in the world. DeVilbiss 1025 concentrator is one of the only American made 10LPM devices available in both 115V and 220V configurations.  

It delivers up to 10 LPM  up to 96% purity. Weighing 19 kgs, it is one of the lightest and smallest 10L devices available today. With such a small footprint, it easy to use in clinic and homecare settings. The DeVilbiss 1025 t is one of the quietest machines in the world with a noise level of less than 45 dB. 

The DeVilbiss 1025  is suitable for most oxygen prescriptions, especially for patients requiring more than 5 LPM. With a dedicated service program, it is guaranteed to last. 

DripAssist

DripAssist is an infusion rate monitor for gravity based infusions. The DripAssist calculates and displays precise infusion rates and volumes. Get safe and reliable IV medication management – even in the most demanding settings. A new, cost effective approach for patient infusion care enables overworked nurses to easily manage more patients.

DripAssist gives you the ability to safely and accurately administer fluids and medications where operational constraints limit the use of infusion pumps.