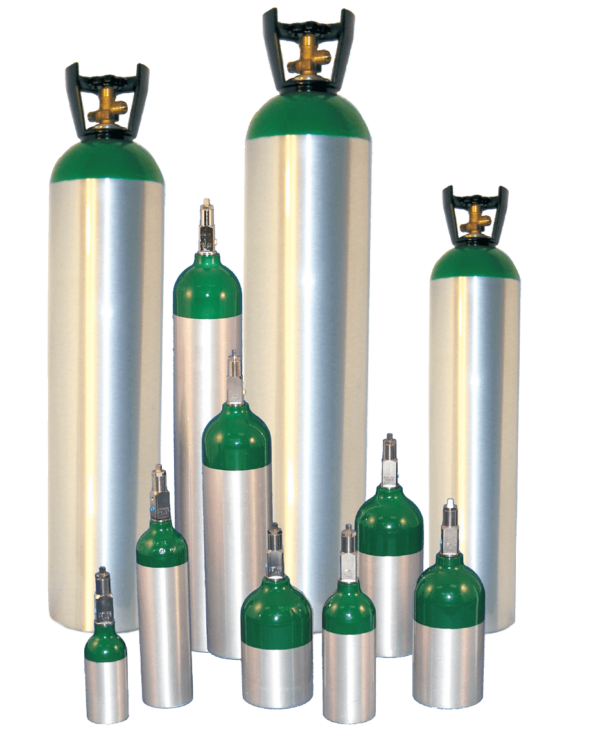 Metal Impact Aluminum Cylinders
Metal Impact Aluminum cylinders are high quality, USA manufactured aluminum medical grade cylinders. Used for home oxygen therapy, emergency medical services (EMS), pre-hospital care and hospitals, nursing homes, and other medical institutions. These can be painted any color as per local regulations and come with a pin index or bull nose valve. Manufactured to DOT and TC requirements
Metal Impact can also manufacturer cylinders for other medical gases or industrial uses.
Product Description
Small and intermediate models contain thread size 750-16 UNF-2B
Large models contain thread size 1.125-12 UNF-2B
Include standard medical valve
Lightweight, high strength 6061-T6 alloy helps increase patient mobility
Manufactured to DOT and TC requirements
Sizes: M2, ML2, M4, ML4, M6, ML6, M7, MC, MC12, MD, ME, M22, M33, M42, M60, M90, M122
The Metal Impact cylinders are very good. Being aluminium and lightweight they are safer for our patients to carry and are of the highest quality. – Vanessa Jiménez, EMR, Ecuador.
DeVilbiss VacuAide Suction Device

The DeVilbiss VacuAide Suction Device is one of the most reliable suction devices available today. Suctioning is a component of bronchial hygiene that involves the mechanical aspiration of secretions from the nasopharynx, oropharynx, and trachea. The airway may be in its natural state, artificial (as with a tracheostomy) or surgically altered (as with a laryngectomy). The patient may or may not be receiving mechanical ventilation.

With both autoclavable and disposable suction receptacles, the DeVilbiss VacuAide Suction Device can be used both in the hospital and at home. For patients who cannot cough up their own secretions, a suction device is an essential part of their daily care. The DeVilbiss VacuAide Suction Device can be used on neonates all the way up to adults with suctioning power from 50 mmHg up to 500 mmHg. With battery power, the DeVilbiss VacuAide can be used anywhere.

MaxTec Oxygen Analyzers

The MaxTec oxygen analyzer is an independent device used to measure the oxygen purity of an oxygen concentrator or other oxygen producing device. When treating a patient with oxygen therapy, it is vitally important that the purity of oxygen be medical grade. An analyzer is an essential tool for any workshop or hospital to have on hand.

The Handi+ is a simple analyzer that checks purity, flow rate, and output pressure. The UltraMax O2 is an ultrasonic oxygen analyzer designed to last longer and without any calibration required. 

Fisio Hospital

The Sanrai Pulse Oximeter is a noninvasive device that makes it easy to check oxygen saturation. For all COPD patients and any others at risk of low levels of blood oxygen saturation, a pulse oximeter is a necessary medical product. Fingertip pulse oximeters are the most common with common applications in hospitals, clinics, homecare providers, and direct to patient. Handheld pulse oximeters are used in hospital or clinical settings to record patient oxygen saturation levels.

This oximeter comes with 6 display modes and shows SpO2, pulse bar, PR, and waveforms. With 1-10 brightness display settings, a patient's oxygen saturation can be checked without any disturbance to them.

VibraPep

The VibraPEP is a single-patient device that provides oscillatory positive expiratory pressure (OPEP) therapy for the detachment and removal of pulmonary secretions. Through variable pressure settings  patients realize maximum efficacy specific to their unique clinical needs. The VibraPEP uses the patient's full expired air volume to produce pressure and oscillatory vibrations. With different settings, VibraPEP is ideal for treating most types of lung pathologies within a single device. Combined PEP enlarges airways, promoting stabilization and collateral ventilation, while Dynamic PEP decreases the cohesiveness of sputum promoting mucocillary clearance in 5 different settings.