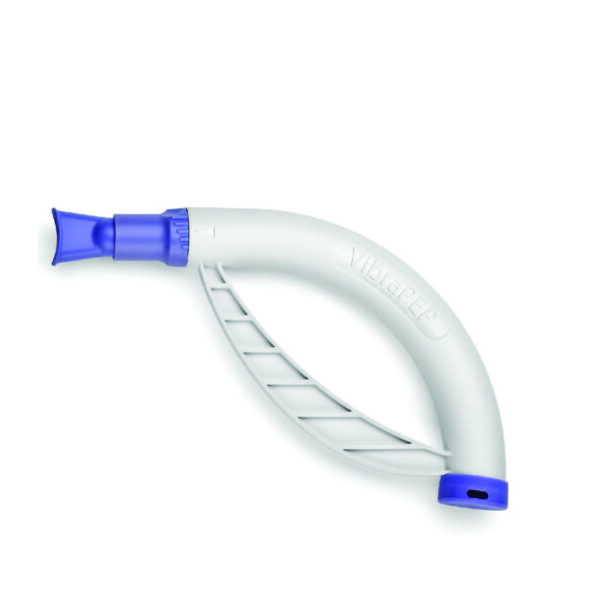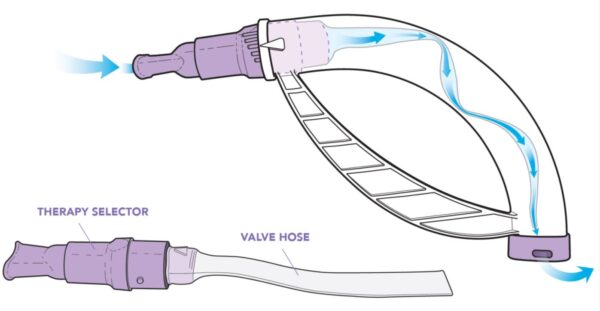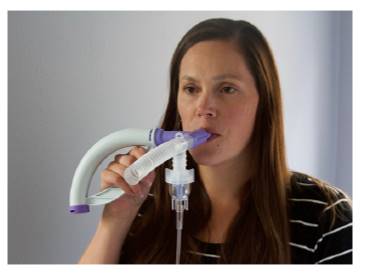 The VibraPEP is a single-patient device that provides oscillatory positive expiratory pressure (OPEP) therapy for the detachment and removal of pulmonary secretions. Through variable pressure settings  patients realize maximum efficacy specific to their unique clinical needs. The VibraPEP uses the patient's full expired air volume to produce pressure and oscillatory vibrations. With different settings, VibraPEP is ideal for treating most types of lung pathologies within a single device. Combined PEP enlarges airways, promoting stabilization and collateral ventilation, while Dynamic PEP decreases the cohesiveness of sputum promoting mucocillary clearance in 5 different settings.
Product Description
5 treatment settings
Both Dynamic and Combined PEP to treat different lung pathologies
Asynchronous waveforms
Oscillations begin at > 10 cmH20
DeVilbiss VacuAide Suction Device

The DeVilbiss VacuAide Suction Device is one of the most reliable suction devices available today. Suctioning is a component of bronchial hygiene that involves the mechanical aspiration of secretions from the nasopharynx, oropharynx, and trachea. The airway may be in its natural state, artificial (as with a tracheostomy) or surgically altered (as with a laryngectomy). The patient may or may not be receiving mechanical ventilation.

With both autoclavable and disposable suction receptacles, the DeVilbiss VacuAide Suction Device can be used both in the hospital and at home. For patients who cannot cough up their own secretions, a suction device is an essential part of their daily care. The DeVilbiss VacuAide Suction Device can be used on neonates all the way up to adults with suctioning power from 50 mmHg up to 500 mmHg. With battery power, the DeVilbiss VacuAide can be used anywhere.

Dimar Non-Invasive Ventilation Solutions

Total Full Face masks and helmets are considered the leading non-invasive ventilation (NIV) solutions. NIV therapy is designed to keep patients out of the ICU and prevent them from intubation. The Dimar range of products, developed and manufactured in Italy, are the most innovative solutions available today. By keeping patients out of ICUs, hospital costs and patient outcomes are significantly improved.

The Dimar Dimax Zero total full face mask is the only mask of its kind with 5 connection points for maximum patient comfort. It can be used with 2 different inlet and outlet circuits to guarantee complete CO2 washout. This lightweight mask is easy for patients to wear for a long time. 

The Dimar helmet range comes with a soft and flexible CPAP helmet to be used with a continuous flow generator and a more rigid ventilator helmet to be used with any standard ICU ventilator. With 6 ISO connectors, it offers better synchrony with a ventilator and maximum patient comfort. 

Dimar can also offer venturi systems, flow generators, and other accessories to provide a complete solution for all non-invasive ventilation needs. 

OxyPure 5 Oxygen Concentrator

The OxyPure oxygen concentrator is one of the most reliable and robust stationary oxygen concentrators in the world. The OxyPure delivers up to 5 LPM continuous flow oxygen. This innovative oxygen concentrator delivers oxygen up to 96% purity and weighs only 15 kgs, making it a truly lightweight and compact design. With a noise level of only 40 dB, it is one of the quietest oxygen concentrators in the world.

The OxyPure  is suitable for most oxygen prescriptions. With a dedicated service program, the OxyPure oxygen concentrator is guaranteed to last.

Oxlife Independence Portable Oxygen Concentrator

The Oxlife Independence is a transportable oxygen concentrator with continuous and pulse dose settings. It is the only portable oxygen concentrator on the market specifically designed to handle the rigors of 24/7 use. With continuous flow up to 3 LPM and 6 pulse settings, the Oxlife Independence is the ideal non-delivery solution for your most demanding oxygen patients. With the largest sieve beds of any POC and its patented Energy Smart Technology, the Oxlife Independence oxygen concentrator will outlast any POC on the market.