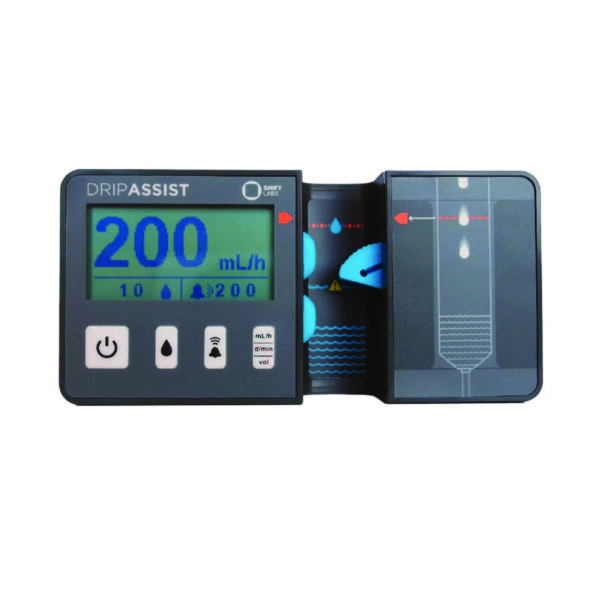 DripAssist is an infusion rate monitor for gravity based infusions. The DripAssist calculates and displays precise infusion rates and volumes. Get safe and reliable IV medication management – even in the most demanding settings. A new, cost effective approach for patient infusion care enables overworked nurses to easily manage more patients.
DripAssist gives you the ability to safely and accurately administer fluids and medications where operational constraints limit the use of infusion pumps.
Product Description
Portable and lightweight
Durable
Manufactured in USA
Alarms for when the infusion rate deviates from the prescribed setting
Infusion rates can be measured by flow rate (mL/h), drops per minute, and total volume
DripAssist means we have a more accurate way to give fluids and to control overdosing. Especially with children and heart patients, we have to be very careful of fluid overload. – Kathy McCarthy, Chidamoyo Hospital, Zimbabwe.
Fisio Hospital

The Sanrai Pulse Oximeter is a noninvasive device that makes it easy to check oxygen saturation. For all COPD patients and any others at risk of low levels of blood oxygen saturation, a pulse oximeter is a necessary medical product. Fingertip pulse oximeters are the most common with common applications in hospitals, clinics, homecare providers, and direct to patient. Handheld pulse oximeters are used in hospital or clinical settings to record patient oxygen saturation levels.

This oximeter comes with 6 display modes and shows SpO2, pulse bar, PR, and waveforms. With 1-10 brightness display settings, a patient's oxygen saturation can be checked without any disturbance to them.

Infrared Thermometer

This non-contact IR thermometer features advanced technology to measure body temperature in just one second without touching the skin. This thermometer allows you to measure your child or baby's temperature easily, accurately, and instantly without disturbing them at all. It's even completely hygienic so there's no risk of passing on germs or diseases to anyone else using this thermometer.

This is an affordable thermometer that is superior to traditional methods of measuring temperature. It takes a total of 9 different measurements in one second and displays the highest reading to guarantee accuracy.

Featuring a sleek and slim design for easy storage and portability, this thermometer comes with a brightly lit LCD screen and simple buttons to use. A beep signals the reading is complete and the automatic memory function holds the last ten readings for quick review and comparison.

This thermometer is safe and easy to use for the entire family.

Personal Protective Equipment

With the covid-19 pandemic, Sanrai has used its extensive network of suppliers to source the highest quality, well priced Personal Protective Equipment available from Asia. All of the PPE that Sanrai is offering has been fully verified to have the necessary international certificates like CE, FDA, and ISO. We have a clear understanding of Chinese export laws and registrations and legal requirements to import into any country in the world. Currently, Sanrai can offer from our vetted suppliers: Type I, Type II, Type IIR medical examination masks, FFP2 / KN95 masks, and nitrile examination gloves. We also have thermometers, oximeters, and other respiratory products useful for treating covid-19.

Bedal DrainPatch Catheter Fixation

The Bedal DrainPatch is a new drainage catheter fixation device that provides significantly more adhesive strength while still being easy to remove. The Bedal Drain Patches are a range of catheter stabilization devices designed to accommodate a wide range of diameters with only one product. The unique system provides a watertight seal and non-invasive catheter fixation. There are unique products for drainage catheters, picc/cvc, pivc, epi/pnb, and a universal fixation device.